I'm the guy who develops the NuGet manager in Rider. It's not ready yet, there are some bugs here and there, but it already works pretty well. The feature which I am most proud of is smart and fast search: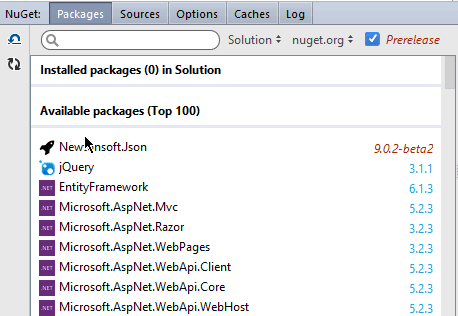 Today I want to share with you some technical details about how it was implemented.
Read more
---
In Rider, we care a lot about performance. I like to improve the application responsiveness and do interesting optimizations all the time. Rider is already well-optimized, and it's often hard to make significant performance improvements, so usually I do micro-optimizations which do not have a very big impact on the whole application. However, sometimes it's possible to improve the speed of a feature 100 times with just a few lines of code.
Rider is based on ReSharper, so we have a lot of cool features out of the box. One of these features is Solution-Wide Analysis which lets you constantly keep track of issues in your solution. Sometimes, solution-wide analysis takes a lot of time to run because there are many files which should be analyzed. Of course, it works super fast on small and projects.
Let's talk about a performance bug (#RIDER-3742) that we recently had.
Repro: Open Rider, create a new "ASP .NET MVC Application", enable solution wide-analysis.
Expected: The analysis should take 1 second.
Actual: The analysis takes 1 second on Windows and 2 minutes on Linux and MacOS.
Read more
---